---
ADVERTISING AND LISTING
INFORMATION
In order to be listed as a member with Munchkins for sale or to advertise occasional Munchkin kittens, there is an annual membership fee of $30. Paid members are entitled to have a small logo (you provide or we make) for their Cattery listed under their state on the kittens for sale page, with a link to their Cattery website or alternately a small ad with information on how to contact the member. For an annual fee of $100, we will create a one page website for the Cattery, with provided text, hosted on the Munchkin Net site (www.Munchkin.net/yourcatteryname), complete with up to 4 pictures and allowing for direct e-mail to the member from the site.
If you are seeking to purchase a Munchkin kitten or cat of a specific type and want to have breeders contact you, we will put your message onto an ISO page for as long as it takes to get you your Munchkin for only $5.00.
If you wish to advertise/list with us, please e-mail the Webmistress for instructions on mailing the photographs and other information and making payment. If you cannot e-mail pictures and must snail mail, photos will be returned if a self-addressed stamped envelope is included.
---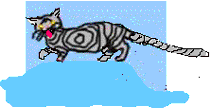 ---

---
Return to Main Page
---
© 1998mbc